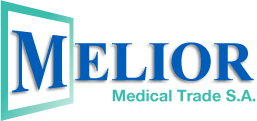 The company Melior Medical Trade with extensive experience in the field of respiratory home support and nursing, in exclusive partnership with the American firm DeVILBISS, the doctor offers a useful tool for the treatment of disorders of breathing and patient quality of life.
The products of the house DRIVE –  DeVILBISS America include oxygen concentrators, oximeters, nebulizers pressure, portable suctions C-PAP devices simple and automatic devices BI-PAP S & ST, respirators pressure-volume and meet all the conditions and requirements as to the quality and reliability, which has been adopted by the European Union.
The company operates with the quality certificate ISO-9001: 2000, when dealing with sales, sales support and service of these products.
The DRIVE – Devilbiss Healthcare offers a full range of respiratory equipment such as oxygen concentrators production, refinement, lightweight size and high reliability, also pressure nebulizers for home use and hospital-grade ultrasound, suctions and direct current battery-like uniquely to address sleep apnea (type CPAP) and includes standard and automatic CPAP, Bi-LEVEL S (simple and automatic) and Bi-LEVEL ST.
DRIVE – Devilbiss Healthcare also has orthopedic products.